PLA, ABS, PETG, Flexible Filament, PVA, etc…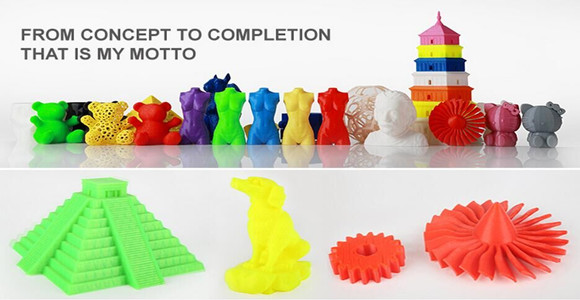 PLA Filament
1.PLA tastes like fried corn.
2.PLA has bright colors and can be made semi-transparent.
3.PLA can avoid curling and warping in printing.
ABS Filament
1.There are 13 colors of ABS filament for choice.
2.High tensity and high tenacity.
3.Softer than PLA.
PETG Filament
1.Good transmittance and glossiness
2.Good toughness
3.Anti-erode
Flexible Filament
1.The more high soft, high elasticity.
2.High transparency .
3.Tasteless and odorless, very environmentally friendly.
PVA Filament
1.1.75mm/3mm PVA filament
2.Vacuum package. Net weight: 0.5kg
3.Water-soluble material
จำหน่าย เส้นพลาสติกสำหรับเครื่องพิมพ์ทุกญี่ห้อ
มีวัสดุ PLA, ABS, PVA, HIPS, Nylon, Conductive ABS. etc.
ขนาด 1.75,3.0 มม.
น้ำหนักวัสดุ 1 กิโลกรัม ไม่รวมแพคเกจ
มีสีหลายสีให้เลือก clear, purple, pink, white, black, red, blue, yellow ,orange, grey, green, gold, silver, fluorescent series: green yellow, glow in dark series, transparent series: red green orange, etc
บริการส่งทั่วประเทศ